As college students return to campus for the first time in over a year, new questions about how school will work and what COVID-19 restrictions, if any, can still be broken. Although many believe that COVID-19 is winding down to an end, disruptions like those choosing not to get vaccinated and the outbreak of the delta variant pose difficulties for universities trying to transition back to in-person learning.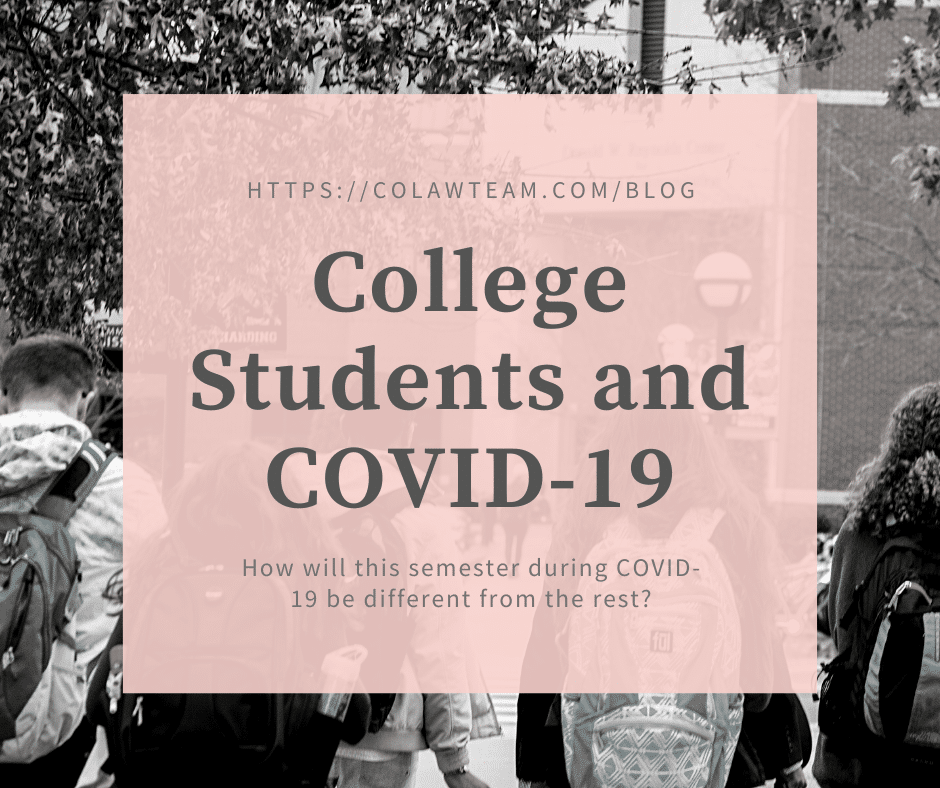 The Return to School For College Students
As universities gear up to return in person this Fall, questions still remain about what exactly this will look like. At Colorado State University, for example, President Joyce McConnell and the Pandemic Preparedness Team are mandating COVID-19 vaccines, contingent upon full FDA approval of one or more vaccines. By doing so, they're trying to assure students that the likelihood of fully in-person classes, free from masks and social distancing, is high. However, on August 11th, McConnell announced that even though 20,000 students were vaccinated, CSU will still be requiring masks for the Fall along with twice-weekly screenings if you're not vaccinated. Even though nothing is set in stone, and although many restrictions were lifted this summer, the growing spread of the delta variant has put many of these restrictions back on the table.
Will Colorado mandate another mask restriction? Will there be limits on the number of people at gatherings, in classrooms, and at football games? Questions like these are starting to become more prevalent as the pandemic continues down its uncertain path. Statewide, Colorado has seen a spike in cases, nearly all of them from unvaccinated residents with the new delta variant. However, Governor Polis is advocating for more people to get vaccinated rather than imposing another mask restriction, so unless things get much worse, it's likely we won't see another statewide mask requirement in the future.
But what about for students on campus? At CSU, masks were not required for a brief period over the summer, but are now required again, and although seating charts are strongly recommended, 100% capacity is allowed for classrooms, laboratories and research spaces, workspaces and offices, and university housing. Even indoor and outdoor events are at full capacity; however, sporting events are still undetermined at this time. At CU Boulder, students are required to be vaccinated by September 15th. Most classes will also be in person again, and residence halls will be open at 100% capacity.
College Students and the Party Scene
Although there is no longer a ten-person limit on social gatherings, Governor Polis and the CDC still recommend taking the necessary precautions to remain safe as the delta variant continues to spread. These precautions include socially distancing, isolating if you have COVID-19 or have been exposed to it, and getting vaccinated. Recommendations like this are nothing new to college students who have been told this time and time again, especially students who partied in large settings before the pandemic began. Now that those restrictions on parties are gone, we'll have to wait in see how the number of parties changes once school starts.
During a normal school year, anywhere between 20 and 40 parties were registered in Fort Collins on a Friday or Saturday night. During the entire Fall semester of 2020, however, only 14 parties were registered. This means one of two things: either CSU students weren't registering their parties and instead were keeping them a low profile, or they really do care about staying safe during the pandemic.
For the incoming freshman class of 2020, experiencing a massive college party during their first year wasn't in the cards. Although COVID-19 is slowly getting better, it still may not be in the cards this year either. Even events like football games, tailgates, and beginning-of-the-year university events have been out of the question until the start of this year. To many students, it feels like they've been robbed of their one chance at a college experience.
What Can Interfere with a Normal Year?
It's safe to these last few years have been unprecedented, so it's difficult to determine what could impact college students' return to school this Fall. As we've discussed, the spread of the delta variant is the biggest threat to a typical school year. The main reason for this is because the CDC estimates that it's almost twice as contagious as other variants. It's also currently the most prevalent strain in the United States. While the greatest concern with regards to COVID-19 is still unvaccinated people, those who are vaccinated can still get and spread the virus, although for a shorter time than those who aren't vaccinated.
It seems like COVID-19 will become a thing of the past in no time, but considering the widespread transmission of the delta variant along with slow-returning restrictions on wearing masks and universities opening up to nearly 100%, it's a legitimate concern that the U.S. will fall into the same times of hardship as last year. Just as college students are getting their hopes up for a normal year, it may all disappear if the worst case scenario comes true.
For preventing another outbreak this Fall, the CDC recommends vaccines and masks. The good news is that the authorized vaccines in the U.S. are highly effective against the virus, even the delta variant. Some vaccinated people may get sick, but it won't be as severe. And even though everyone is tired of wearing masks, the CDC has concluded that masks are essential in reducing the transmission of the delta variant.
So, What Now?
Overall, it's up to us as a country to decide what these next few months will look like. If we're careful, wear our masks when likely exposure is high, and get vaccinated, there's a high chance we'll see the light at the end of this tunnel. Even though we so badly want everything to go back to normal straight away, there has to be a slow transition out of the pandemic as we return to our normal lives. This means not throwing massive parties, being around others when feeling ill, and getting our vaccines as soon as possible.
To read about how returning to school is affecting children of all ages as well as their families, check out our article from last week here.
Need Legal Help?
If you are in need of criminal defense or family law help, consider reaching out to Colorado Lawyer Team for a free 30-minute consultation. Find more information at https://CoLawTeam.com or call 970.670.0378.
IMPORTANT DISCLAIMER: This blog post does not create an attorney-client relationship. It's a blog post and not legal advice. Each case is different, and this post is meant for generalized knowledge, only. If you haven't signed an engagement letter (or even received an engagement letter) AND issued some form of payment (peanuts do not count), then no attorney-client relationship exists. Nevertheless, we will do our best to ensure your confidentiality should you choose to contact us privately, but do not post about your case in the comments here (because reaching out for help with your case should be confidential, damn it).
If you have done both of the things mentioned earlier–signed a letter and paid us–then, and only then, you might be a client. But merely chatting with us online does not a client make. Suffice it to say, if you aren't absolutely certain about whether or not an attorney-client relationship exists between yourself and the Colorado Lawyer Team, you should probably ask for some clarity. Until then, we'll keep your secrets but we don't formally represent you… YET.