Colorado Law Enforcement & Legal System During COVID-19
These last few weeks have been crazy, stressful, and even downright chaotic. With the emergence of rapidly spreading virus COVID-19, it seems like our lives were thrown upside down in just a matter of days. Things have been changing so rapidly it may feel hard to keep track of how our world is adapting. This is why we wanted to post a summary of how our law enforcement and legal system are currently handling cases. Things are likely to keep changing rapidly, so keep in mind this is accurate as of March 31st, 2020. For the most updated information after this date, be sure to check your county and state's website.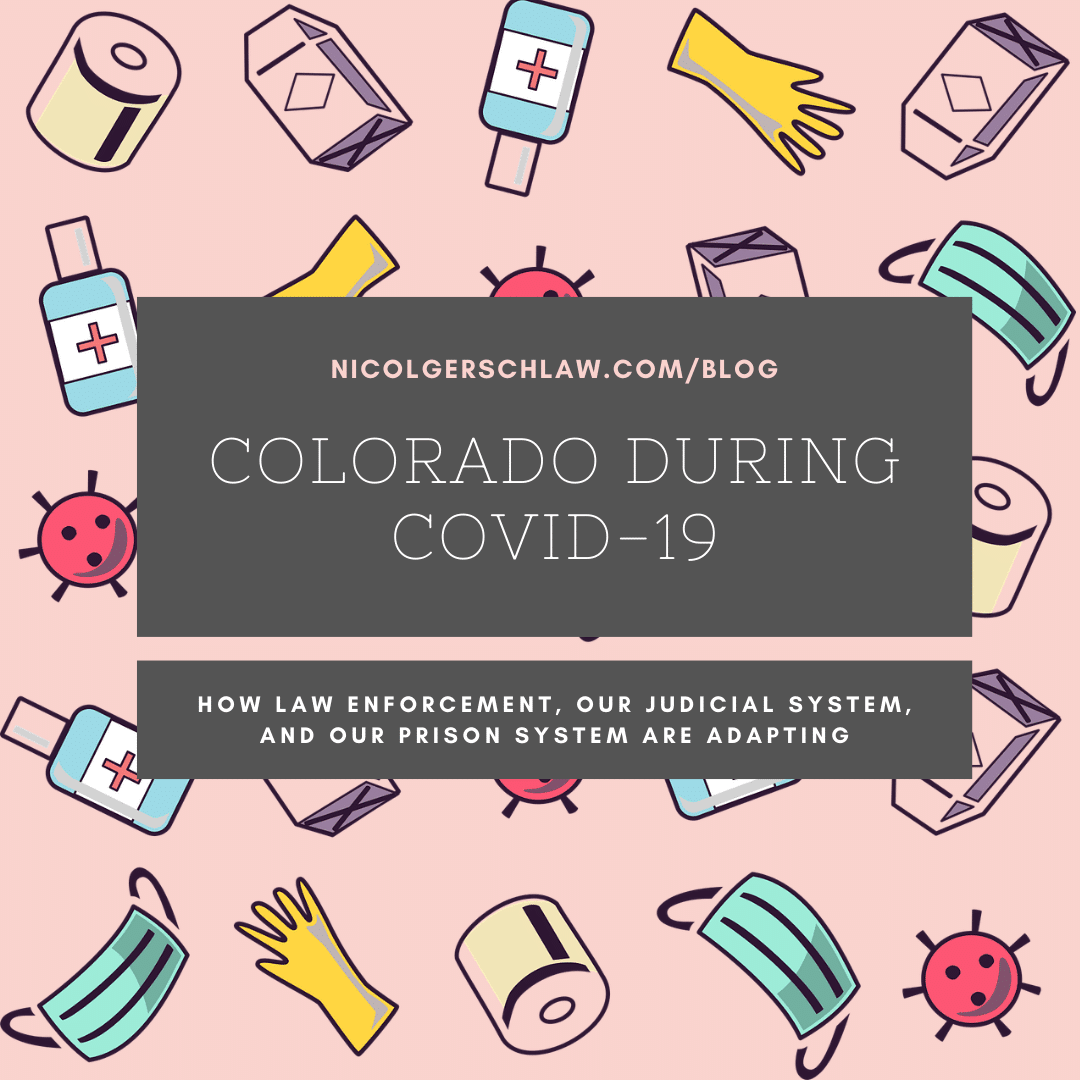 Law Enforcement
What Is A Stay at Home Order?
The State of Colorado recently ordered a State Public Health Order that requires individuals stay at home whenever possible. Exceptions include essential activities such as going to the grocery store or pharmacy, picking up restaurant take-out, receiving medical care, caring for a loved one, or going to work if your employer is considered an essential business. You are allowed to leave the house to walk your pet or exercise outside under certain conditions which is that you must abide by social distancing rules and stay six feet apart from people who you do not live with. However, if you are sick or showing cold symptoms, you are only allowed to leave if receiving medical care. This is a brief summary of the Stay At Home Order, for more information read the full document here. 
The State of Colorado Stay At Home Order is effective from March 26th – April 11th. This date could be extended at any time if conditions worsen. There are certain counties that have decided to issue their own Stay At Home Order for longer. Larimer, Adams, Arapahoe, Douglas, and Jefferson County have issued orders until April 17th. Please visit your county's website to determine if you will be required to shelter in place after April 11th. 
How Are They Enforcing the Stay At Home Order?
On the Public Health Order, it was announced that local authorities are "encouraged to determine the best course of action to encourage maximum compliance." While Denver Mayor Michael Hancock has stressed that law enforcement's main goal is to educate people not complying instead of punish them, we do know serious penalties are possible. The State Public Health Order specified that people who violate the order could face fines of up to $1,000 and imprisonment in a county jail for up to one year. It will be interesting to see how strictly police will enforce this order, and what penalties will actually be given. However, whenever there are potential fines and incarceration are on the table it is always in your best interest to stay home.
Are Police Still Responding to Calls?
Police are considered essential workers and are still enforcing laws and responding to most calls. However, certain cities such as Denver and Aurora have announced that they are no longer sending officers to take in-person reports for low-level crimes such as vandalism. These departments are instead encouraging people to report crimes online if they don't require an immediate response. Aurora PD specified that they would not send an officer to a call unless it's a serious offense or the crime is in progress. This is primarily because they are trying to reduce the risk of their officers contracting the virus. They are also adapting to prioritizing calls with a limited workforce.
Judicial System
Our judicial system is facing its own struggles while trying to comply with social distancing regulations. And to make it more confusing, each county is responding differently. However, most counties are prioritizing certain hearings and appointments that focus on an immediate concern for public safety. All other appearances have been pushed back to as late July, depending on the county. 
In order to find information about your county specifically, please visit https://www.courts.state.co.us/announcements/COVID-19.cfm and select your area.   
Our Prison System
One of the most concerning aspects of this virus is how it will affect those incarcerated. This includes both individuals serving sentences AND those who have been accused of a crime and cannot afford to pay their bond while awaiting trial. The most effective strategies to prevent the spread of COVID-19 is to practice frequent hand washing, sanitizing, and social distancing. Most of this is extremely difficult, if not impossible, while incarcerated. This is increasingly concerning with the inmate population over the age of 60 and those inmates with underlying health conditions.  These inmates are considered high risk which means if they contract the virus, they could get very ill or worse could die.
Currently, COVID-19 has yet to strongly hit Colorado prisons. The Colorado Department of Corrections is trying its best to keep it that way by reducing to only essential staff, suspending visitation, suspending volunteer services, and isolating inmates exhibiting symptoms. Additionally, Governor Jared Polis has instructed law enforcement to use warnings or summons in lieu of arrest when possible to reduce overcrowding. The CDOC has also temporarily suspended arrest of parolees for low-level parole violations in order not to overload correctional institutions. 
It is likely only a matter of time before this disease spreads through our correctional institutions. Many are calling for early release of some inmates and other precautions to soften the blow. 
Need Legal Help?
The spread of COVID-19 is clearly causing unprecedented problems for law enforcement and the legal field. If you are in need of legal help, consider reaching out to Colorado Lawyer Team for a free 30-minute consultation. Find more information at https://NicolGerschLaw.Com or call 970.670.0378. We are currently prioritizing helping our clients avoid incarceration by fighting to quash warrants for those who could be arrested, or fighting to reconsider sentencing for those already incarcerated. 
IMPORTANT DISCLAIMER: This blog post does not create an attorney-client relationship. It's a blog post and not legal advice. Each case is different, and this post is meant for generalized knowledge, only. If you haven't signed an engagement letter (or even received an engagement letter) AND issued some form of payment (peanuts do not count), then no attorney-client relationship exists. Nevertheless, we will do our best to ensure your confidentiality should you choose to contact us privately, but please do not post about your case in the comments here.
If you have done both of the things mentioned earlier–signed a letter and paid us–then, and only then do you establish an attorney/client relationship.  If you are uncertain about this, you should probably ask us for some clarity.  Until then, we'll keep your secrets but we don't formally represent you… YET.