What is an initial status conference? Is it a hearing? How long does it last? Initial status conferences, or ISCs, are the first of many steps in a divorce, and it's not as daunting as the name seems. In this post, we'll answer some of the most common questions we get about ISC's, including what a case management order is and what can be the result of an ISC.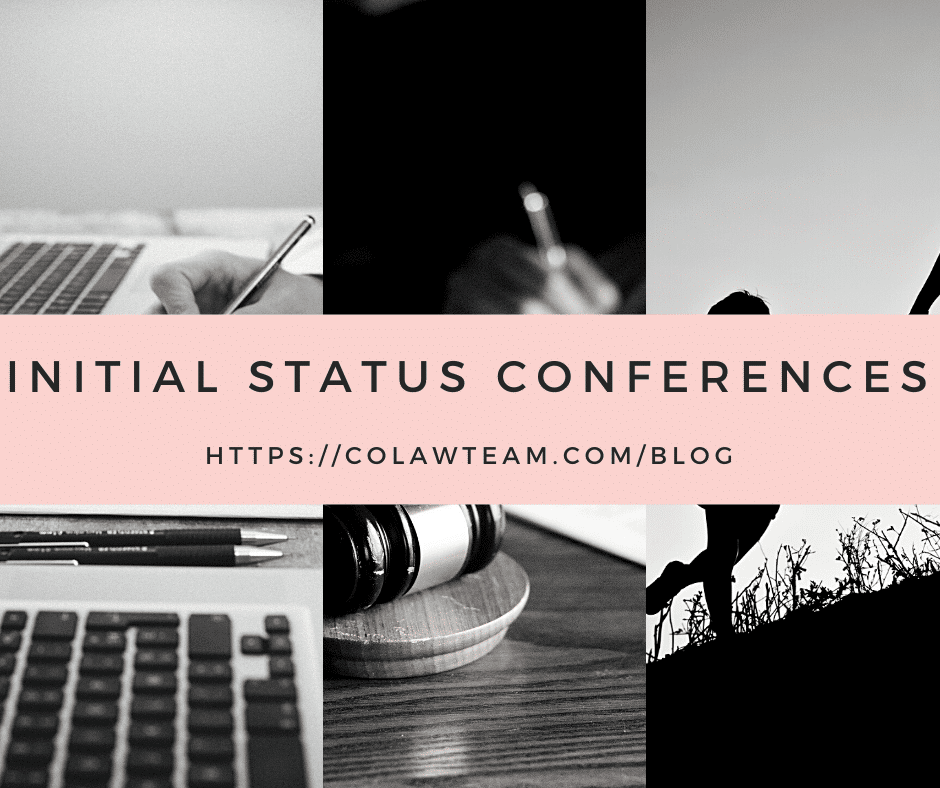 What is an Initial Status Conference?
In family law, an initial status conference, or ISC, is a first appearance in your case. Depending on the division and county that your case is in, the conference is typically held before a court facilitator or a judge, and occurs within 40 days of the time you filed your petition. This is true even if the other party hasn't been served with the initial documents. If that's the case, you can expect a continued ISC to be set out in the future to allow you to continue working on service of process on the other party. If you're the party who received the subpoena, you should contact the court clerk right away to confirm the date of the ISC, if any, which may have been set before you were even involved in your own case.
Another important thing to know is that an initial status conference is not a hearing, so there are no witnesses, testimonies, or evidence. The reason for the conference is so the court can get a feel for the case, understand each party's side, and get a case schedule set up. The conference lasts around 15 minutes, so it's not a long, drawn-out hearing that can last hours. It's also important to begin discussions about things like mediation, parenting classes, and the exchange of financial documents.
What is a Case Management Order?
Before attending the initial status conference, it's a good idea to read the case management order, which is issued by the court when the case is filed and opened. A case management order is, in simple terms, an order from the judge, and odds are it will help you out a lot in your case. It can both answer questions you may have and create a better picture of the upcoming deadlines and things that need to be completed.
The case management order is required by Colo.R.Civ.P. Rule 16 and it "encourages professionalism and cooperation among counsel and parties to facilitate disclosure, discovery, pretrial and trial procedures."  One of the main things required in most case management orders is the requirement that the parties "meet and confer" before coming back to court. Essentially, that means you have to discuss with the other party (or their attorney if they're not handling the case pro se) before you file any documents with the court requesting a hearing or a court order/ruling. You should also be prepared to discuss your claims and defenses in a conference with the other side. Most things can be worked out, and the case management order has that and judicial efficiency in mind.
What Can Come Out of an Initial Status Conference?
At the end of an initial status conference, the court can set dates for future conferences, submit status updates, and can even create dates or temporary or permanent orders if applicable to your case. Whether or not you have spoken to the other party is something that can also come up, specifically if you have started settlement conversations, so it's important to keep that in mind. Prior to the ISC, you may be ordered to fill out financial disclosures or take a shot at drafting the required child support worksheet for cases involving children. An attorney's advice during the preparation of these documents is critical, as it's not always easy to amend them later on.
If both parties are represented by attorneys, or if both parties are in agreement on the matters before the court, the court may decide not to require attendance at an ISC. However, if kids are involved, a parenting class will also always be required even when the parties agree on all issues involving the children.
Overall…
Ultimately, ISCs are the first step in a daunting divorce process. However, the ISC itself shouldn't be seen as daunting or intimidating, but rather a chance for the court to get a feel for you situation and get started on the divorce process. Remember, it's not a hearing, and at the end of the day, it's only around 15 minutes and may even be virtual.
Interested in learning more about Family Law and divorce? Check out these other blog posts about the topic:
Need Legal Help?
If you are in need of criminal defense or family law help (and yeah, we do some animal law things outside of criminal defense and family law, too) consider reaching out to Colorado Lawyer Team for a free 30-minute consultation. Find more information at https://CoLawTeam.com or call 970.670.0378.
IMPORTANT DISCLAIMER: This blog post does not create an attorney-client relationship. It's a blog post and not legal advice. Each case is different, and this post is meant for generalized knowledge, only. If you haven't signed an engagement letter (or even received an engagement letter) AND issued some form of payment (peanuts do not count), then no attorney-client relationship exists. Nevertheless, we will do our best to ensure your confidentiality should you choose to contact us privately, but do not post about your case in the comments here (because reaching out for help with your case should be confidential, damn it).
If you have done both of the things mentioned earlier–signed a letter and paid us–then, and only then, you might be a client. But merely chatting with us online does not a client make. Suffice it to say, if you aren't absolutely certain about whether or not an attorney-client relationship exists between yourself and the Colorado Lawyer Team, you should probably ask for some clarity. Until then, we'll keep your secrets but we don't formally represent you… YET.