The holidays have begun! While this time of year is usually associated with shopping malls and the aroma of fresh-baked goods, it can also be a tricky season riddled with feelings of anxiety, depression, and additional forms of stress. In fact, the holidays can be a time of year when legal help is needed most, with high rates of self-medicating with drugs and/or alcohol, domestic assault, and identify theft.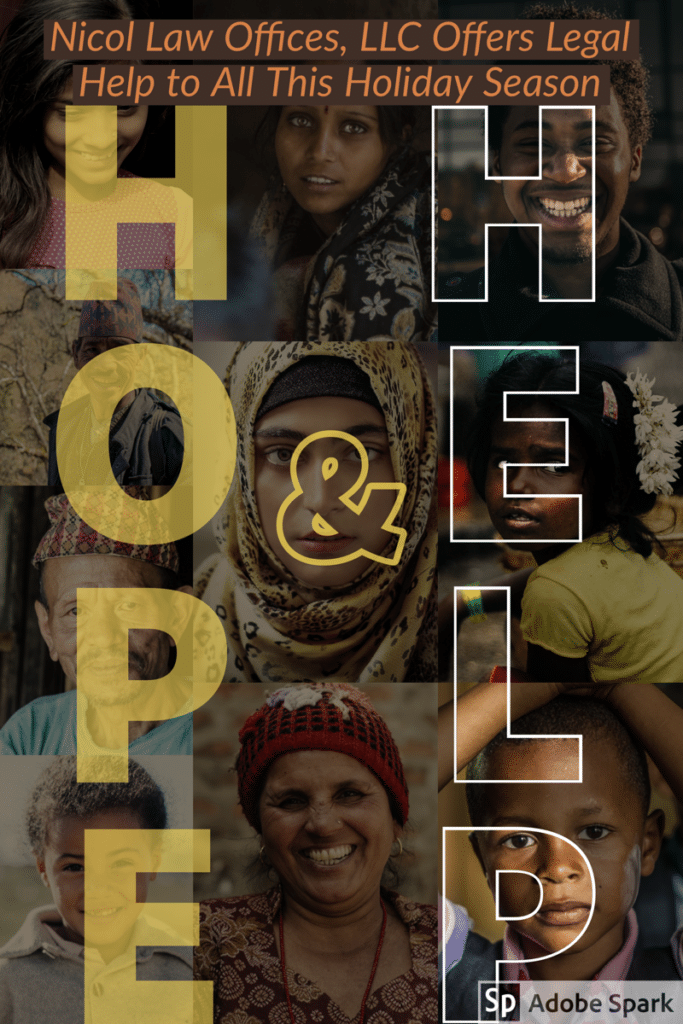 The homeless population is especially at risk during this time of year. Numbers within the last decade estimate that approximately 16,203 people experience homelessness in a single night, and it's likely the numbers have only increased over the years (see this study, for example).
The Triad of Homelessness: Mental Illness, Substance Abuse, and Crime
Those who are homeless are more likely to commit criminal offenses in general. Most of them are non-violent "nuisance offenses" (panhandling or turnstile jumping on public transportation), but the homeless population is at risk to escalate to more serious crimes (theft or breaking and entering). There is also a concerning relationship to substance abuse; drugs and alcohol are widely reported as both a reason for becoming homeless and a reason for staying on the streets. Many also suffer from mental illness, self-medicating with substances, and consequently cycle between the streets, emergency rooms, and jail.  For more on this evolving door, check out National Homeless's fact sheet here: https://www.nationalhomeless.org/factsheets/addiction.html.
Reintegration without Recidivism
With any criminal behavior, the risk of incarceration increases – especially for someone who is homeless, without social support, and self-medicating just to survive. The sentence may be as short-lived as a weekend in jail, but any stint behind bars comes with potentially long-lasting consequences. For those who earn a longer sentence as result of criminal behavior, it can mean prison time. Once the prison term is over, reentry into society begins. For many of the formerly-incarcerated, the transition back into their community is more difficult than going behind bars. Social support may have been damaged, housing options limited, and job opportunities severely restricted. The risk of recidivism – falling back into criminal behavior – is dangerously high.
It may feel like you have nothing, but there are places to go for help – including legal help! Your lawyer should stay in touch with you throughout the process, even after the case is closed in court. Here at Colorado Lawyer Team Offices, LLC., I keep contact with my clients even after the sentence has been handed down. I continue fighting for those who are in the system (I'm currently handling two appellate cases) and I can handle yours too!
Hope for the Homeless
But what if you don't need legal help, or it isn't at the top of your priority list? What if you're just looking for a place to stay, or a job to put food on the table for your family? What if you're alone on the street with your pet, and it seems like there is no hope? Well, there is hope! I serve on the board for Homeward Alliance, an organization in Northern Colorado with a wide range of programs and initiatives to combat homelessness. For those who are re-entering society and on parole, Homeward Alliance also offers a program to encourage people to overcome personal challenges, locate employment, and secure housing. For information on getting help from Homeward Alliance, click here.
Defending and Protecting – Domestic Violence Handled the Right Way
In addition to serving on the Homeward Alliance board, I have enjoyed a two-year partnership with Project Safeguard in Denver.  I handle domestic violence cases as a part of my criminal defense practice, both defending the accused and protecting the victimized, and I have seen charges of domestic abuse threaten a person's housing.  It's easy to end up on the streets when there's a protection order requiring you to stay away from your own home.  Relationships with friends and family, employment status, and housing availability can all be taken away or severely damaged just by mere charges being levied against you.  Don't run the risk of domestic violence ruining your life; whether you have been charged or are a victim in need of a protection order or housing help, let me use my unique approach to handling these cases to get justice for you!
Get Legal Help – Let Justie Work for You!
If you're looking for an experienced lawyer who will handle your case with a unique, well-rounded approach and stay with you long after the gavel comes down, I am here for you! Complete an Intake Form for criminal offenses or permanent restraining orders, then schedule an appointment. Let me get justice for you today!
Check out some other great resources here:
CO Criminal Justice Reform Coalition