Legal Assistant/ Paralegal Job Openings (yes, plural)
Legal Assistant/ Paralegal: Criminal Defense and Family Law
Colorado Lawyer Team was founded with the vision of being ambitious rebels and fighting the system from the inside out. We're currently looking for not one but TWO legal assistants who want to join our team and help us achieve access to justice for our clients while not sacrificing our souls.
Job Opportunity Details
The legal assistants will have the opportunity to not only support a team of amazing attorneys, but also opportunities to work on exciting legal technology projects along with the usual drafting, research, and client contact. Ideal candidates will want to grow in the position over time, even graduating to a paralegal status as skills are developed. On the job training is provided—seriously we often UNtrain the bad habits acquired at other firms—and self-starters are encouraged. Mistakes happen, it's all about how you deal with it and problem-solve. No judgment here, just growth!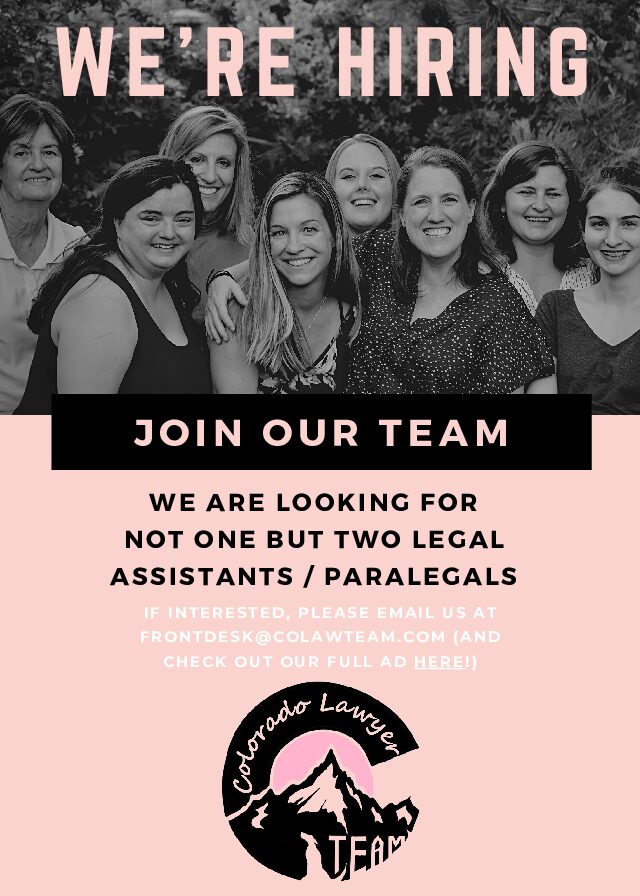 Technology Requirements
High speed internet for zoom and remote
Reliable phone service
We will provide computer, docking station, home monitors, all in one printer, as appropriate
Salary Range
Approximately $25,000- $40,000 per year (gross) depending on experience
Monthly reimbursements for phone/internet use
Discretionary bonuses quarterly
New business origination bonuses
Insurance package and benefits
Short-term/ long-term disability benefits and Employee Assistance Program
Non-owned auto and commercial umbrella coverages
Quarterly wellness stipend
Peer to Peer Bonuses
Office pets encouraged
About the Position + Requirements
You will be joining a small team that works hard and plays harder. We're fun loving and innovative—we are NOT like other law firms (seriously, look at any of our social media to know more). We're looking for the right fit, and, ideally, a long-term relationship.
Full time positions, but flexible hours
PTO policy
Extensive sick leave policy (hello COVID is still real)
Flexible hours
Work from home / remote work expected
Job description:

General administrative tasks (filing, calendaring, email management)
Research and case management
Client Communication
Court Communication
Work within law firm systems
Part of the best team imaginable
Paired with an awesome female attorney to work as a team on a dedicated caseload
About You
HS diploma encouraged, but not necessary—experience is a good substitute
Teamwork
Hardworking self-starter takes initiative
Comfortable in virtual environment
Client-service oriented
Tech-savvy preferred. Ability to learn new computer skills with appropriate training
Familiarity with word and adobe at minimum
Good sense of humor (we're not about prestige, if you can't tell, so humor AND humility is a bonus)
Fluent in Spanish-a PLUS!
About Us
Paperless, full remote firm
Always learning and improving
Loyal to each other
Flexible and responsive
Great communicators
Use innovation to serve ourselves and clients better
24 hour a day receptionist service provided (yeah, you're not really answering the phones)
Dedicated help-desk for software systems
Respect each other's boundaries
Freedom to speak your mind
Application Process
We want to know who you are, so make your application stand out! Email your resume and cover letter to frontdesk@colawteam.com. Please include a video, graphic, social media post, or other creative way of explaining "why you're an ambitious rebel." Be sure to include why you are the best candidate for this position, something fun about yourself, and how you'll fit in to our team environment.
We are committed to fostering an environment that embraces and promotes equality, diversity, and inclusiveness.
Applications close: Nov. 15, 2021.  Interviews will be ongoing until position has been filled so please apply early!