Associate Attorney: Criminal Defense and Family Law
Colorado Lawyer Team was founded with the vision of being ambitious rebels and fighting the system from the inside out while helping clients understand what's going on every step of the way. We're currently looking for an associate attorney wanting to join our team and help us achieve access to justice for our clients while not sacrificing our souls.
Job Opportunity Details
This associate attorney will work with our founding partners, Jennifer Gersch and Justie Nicol, but will also interact daily with the entire team (of counsel and contract attorney team members as well as full staff support including admin assistants, externs, interns, and paralegals). This is a FT position, and the expectation is that the attorney will work from home (or from court via mobile device) most days of the week M-F.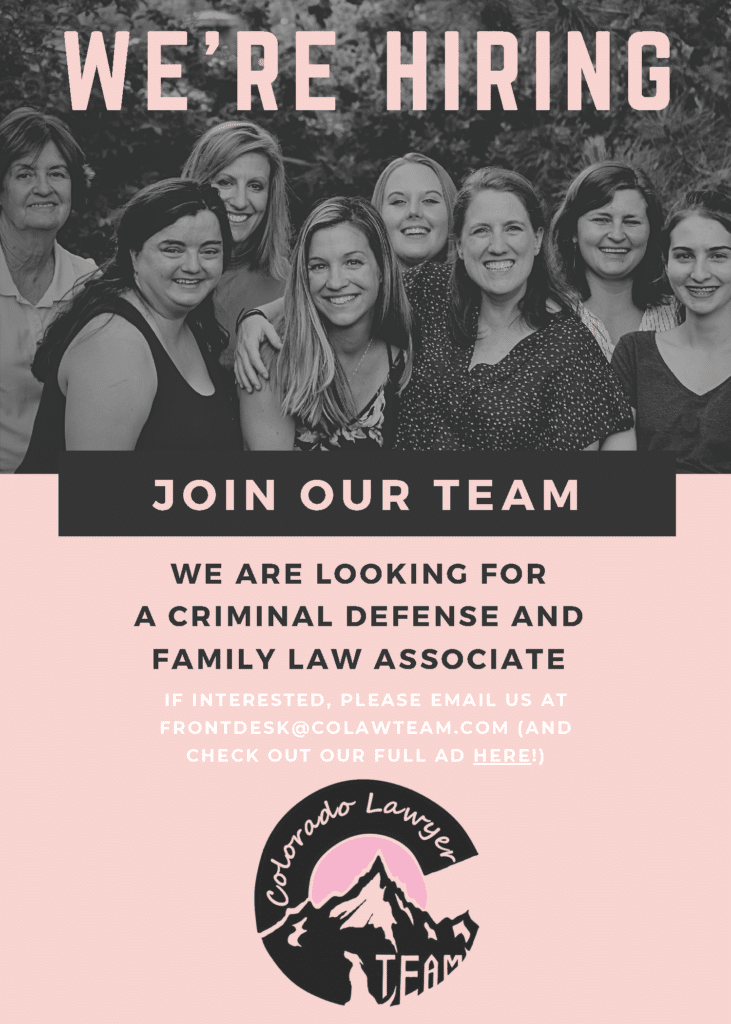 Technology Requirements
High-speed internet for zoom and remote court appearances and virtual client/team meetings
Reliable phone service
We will provide computer, docking station, home monitors, all in one printer, etc. and provide training on technology and systems we use
Salary Range
$65,000 – $80,000 per year (gross) depending on experience
Professional membership dues and conference/CLE costs covered, including travel for select conferences
Monthly reimbursements for phone/internet use
Bonuses: Discretionary bonuses quarterly and new business origination bonuses
Insurance package and benefits including short-term/ long-term disability benefits, an Employee Assistance Program, non-owned auto, and commercial umbrella coverage
Quarterly wellness stipend
Peer to Peer Bonuses to and from team members
Office pets encouraged (although not cat filters during court!)
About the Position + Requirements
You will be joining a small team that works hard and plays harder. We're fun-loving and innovative—we are NOT like other law firms (seriously, look at any of our social media to know more). We're looking for the right fit, and, ideally, a long-term relationship.
Full-time position (split between family law and criminal defense)
Family law training and CLE courses are provided to learn on-the-job, but criminal defense experience necessary to feel comfortable in court
Help with obtaining Alternate Defense Counsel (ADC) contract and administration of ADC cases (including billing entry)
Opportunity to expand into a field of your choice if interested in other areas of law
Robust PTO policy and sick leave plans
Flexible hours
Work from home when not in court (all virtual all the time, even pre-COVID)
Day to Day tasks:

Intake and client communication
Research and case management
Court Communication, including motions and trial practice
Work with law firm technology to improve efficiency
Leading team-based approach to client service incorporating social workers, experts, and investigators
Client care and communication
About You
You're a 2+ year attorney with trial experience in criminal law and an interest in learning family law over time
You are teamwork-driven with experience lifting others up and succeeding together
You are a hardworking self-starter who takes initiative and doesn't wait to be told what to do (seriously, we expect failure so we can learn from it; and this is "practice" which necessitates trial and error)
You're comfortable in a virtual environment and technologically proficient in G Suite and Microsoft 365 (bonus if you're willing to learn tech integrations and Zapier)
You are an empathetic person focused on the client's needs and that of your team
 About Us
A paperless, full remote firm utilizing cloud computing to its fullest
Always learning and improving while being loyal to each other and our clients
Flexible and responsive; we take pride in being great communicators
We use innovation and tech to serve ourselves and our clients better
We delegate and outsource routine work to lower overhead (for example, off-site 24-hour a day receptionist service provided so we don't constantly answer our own phones)
We utilize dedicated help-desks for our software systems and applications
We have the freedom to speak our minds without consequence or judgment
Application Process
We want to know who you are, so make your application stand out! Email your resume and cover letter to frontdesk@colawteam.com. Please include a video, graphic, social media post, or another creative way of explaining "why you're an ambitious rebel." Be sure to include why you are the best candidate for this position, something fun about yourself, and how you'll fit in with our team environment. We are committed to fostering an environment that embraces and promotes equality, diversity, and inclusiveness.
Applications close July 31, 2021.