Living as a Registered Sex Offender
Being listed on the Colorado Sex Offender Registry (or any state sex offender registry, for that matter) can have serious and long-lasting impacts on your life. Not everyone on the sex offender registry is a violent predator or even what you probably envision when you think of a "sex offender."
Did you know that a mild indiscretion like brushing up against someone in a crowded bar can land you on the sex offender registry? Did you also know that it doesn't matter or not if you have any sexual intent at all? These things happen, and incidents like that are how so many Coloradoans end up on the Colorado Sex Offender Registry.
When you are added to the registry, your photograph, address, date of conviction, and information about your offense are often included on a database that is accessible to the public. Many of these people are treated poorly or even harassed by neighbors who don't know the difference between a sexually violent crime and a mild indiscretion like public urination. And beyond public shaming, being a registered sex offender can forever impact your employment and housing options.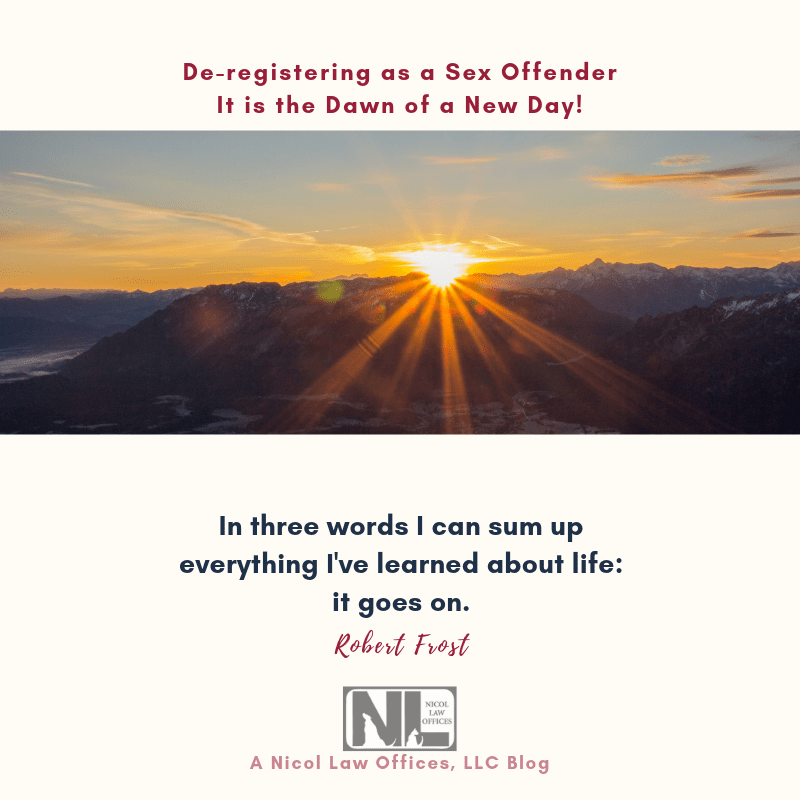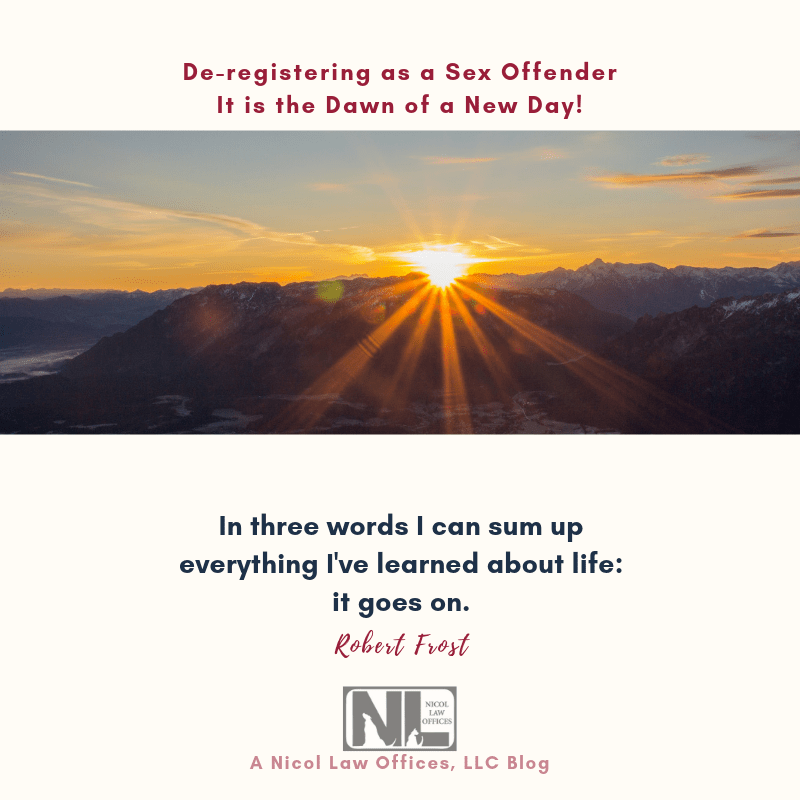 Can You Seal a Sex Crime Conviction?
I've previously written about sealing criminal records, which can be an effective way to prevent other people from learning about criminal convictions that happened a long time ago. Even though law enforcement authorities still have access to your criminal history when you seal records, removing them from public access can help you move on with your life.
Deregistration is different from sealing your criminal record. Sex offender deregistration simply removes your name and information from the official sex offender registry. The process does not conceal or get rid of the documents related to your offense. In fact, unless it's a juvenile sex offense or sealing is contemplated at the outset, you may NOT be able to seal the offense unless it was dismissed outright (i.e. not even deferred judgments can be sealed if the underlying offense has a sexual basis). Deregistration does, however, make it more difficult for average people to discover your sex offense.
Who Is Eligible for Deregistration?
You might be surprised how many people are eligible for deregistration. As long as you were not convicted of particular sexual offenses or convicted of an additional sexual offense after the offense that led to the initial registration, deregistration might be an option for you.
You might, however, have to wait a certain amount of time before qualifying for deregistration. Here are some of the more common circumstances and accompanying deregistration wait times:
20 years after release from prison after conviction of a Class 1, 2 or 3 felony
10 years after release from prison after conviction of a Class 4, 5, or 6 felony, Class 1 misdemeanor of unlawful sexual contact, or third degree sexual assault (as defined before July 1, 2000)
5 years after release for all other misdemeanors
One year after full compliance of the registration requirements after conviction of failing to register
After successful completion of a sentence for a deferred judgment, as long as the court didn't require continued registration
After successful completion of a sentence if the conviction occurred while the offender was a juvenile
Who Is Not Eligible for Deregistration?
Colorado law specifically prohibits certain individuals from being removed from the sex offender registry, including those individuals who are considered sexually violent predators or those who are subject to lifetime registration.
Anyone who was convicted of the following crimes as an adult as defined under Colorado law are not eligible for deregistration:
Sexual assault or sexual assault in the first or second degree (as defined before July 1, 2000)
Sexual assault on a child or sexual assault on a child by one in a position of trust
Sexual assault on a client by a psychotherapist
Incest
Aggravated incest
More than one conviction for unlawful sexual behavior in Colorado or any other jurisdiction
It is important to note that even if a person is required to register for their lifetime due to a conviction in another state, this same requirement may not be imposed here if the state where the conviction occurred has more stringent registration requirements than Colorado.
Interested in exploring deregistration? Let Justie Get Justice for You!
Deregistering involves filing a petition with the court within the appropriate timeframe and showing that you meet all requirements. This process can be complex, so having a Colorado criminal defense attorney help you is important.
Email me at justieforjustice@gmail.com or visit my website to schedule a free, 30-minute initial consultation. You can schedule that online through my website. During this time, we can discuss your options and whether deregistration is an option for you. If you are eligible, I can help you take the steps necessary to get past a prior sex crime registration. Take back your life!
IMPORTANT DISCLAIMER: This blog post does not create an attorney-client relationship. It's a blog post and not legal advice. Each case is different, and this post is meant for generalized knowledge, only. If you haven't signed an engagement letter (or even received an engagement letter) AND issued some form of payment (peanuts do not count), then no attorney-client relationship exists. Nevertheless, we will do our best to ensure your confidentiality should you choose to contact us privately, but do not post about your case in the comments here (because reaching out for help with your case should be confidential, damn it).
If you have done both of the things mentioned earlier–signed a letter and paid us–then, and only then, you might be a client. But merely chatting with us online does not a client make. Suffice it to say, if you aren't absolutely certain about whether or not an attorney-client relationship exists between yourself and NLO, you should probably ask for some clarity. Until then, we'll keep your secrets but we don't formally represent you… YET.